The history of the Class 22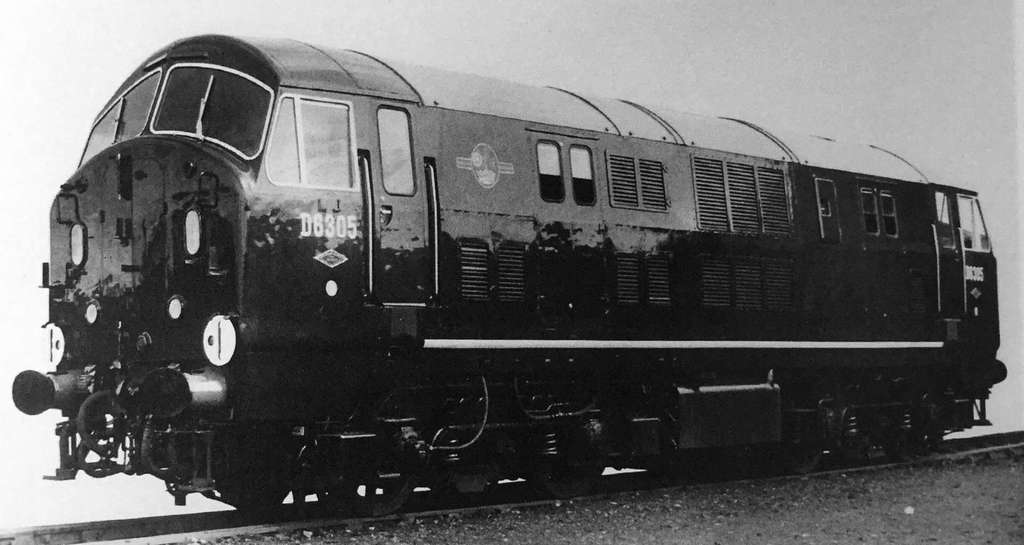 Introduction
In 1955 the British Government embarked on a "Modernisation Plan" with the primary objective of removing steam traction from British Railways. Diesel and electric traction was becoming widely accepted around the world, and deemed more efficient. It was felt that Britain was behind in this area and a hurried programme was put in place to catch up.
The British Transport Commission (BTC) was tasked with conceiving and implementing the Modernisation Plan, resulting in a large number of pilot scheme diesel and electric locomotives being commissioned. The locomotives were ordered with a wide range of manufacturers in Britain, as the policy then was firmly "Buy British."
The BTC favoured a fleet of diesel electric locomotives; a type that was proving very successful in the USA, and that Britain also had some experience of. Two 'London, Midland & Scottish' (LMS) railway company locomotives numbered 10000/1, and the Southern Region's 10201/2 were proving reliable prototypes, and could have been purchased in bulk for the larger locomotive requirements. Another LMS loco, 10800, had also been produced for lighter mixed traffic use.
The overall plan was to electrify all of the British Railways mainline routes, with diesels being a 'stop gap' until total electrification was complete. Before this, Mr R. C. Bond – British Railway's Chief Mechanical Engineer – had observed the trials of a pair of North British Locomotive Company (NBL) diesel hydraulic locomotives for Mauritius that took place in Scotland. He was so impressed that when the Modernisation Plan came along, he suggested that looking into diesel hydraulics would be a good idea. NBL had already drawn up a Type C 2,000 hp loco and a 1,000 hp Type B and they offered five of the larger and six of the smaller units. The "Buy British" policy was difficult for the WR, as all the experience was coming from Germany, so licensees for British production of German ideas had to be arranged, as buying German was definitely not allowed, and NBL had such licenses.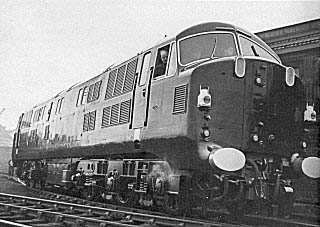 The pilot scheme of what became known as British Railways' Class 22 diesel hydraulic locomotives (numbered D6300-5) were ordered, and followed in time by a production series (numbered D6306-6357). They were often also commonly referred to as "Baby Warships" because they were in essence one half of the larger "D600 Warship" class.
A decision was made to use the D63XX class on the Western Region (WR) as the mainline was totally contained within the Region and there were flat, fast, and steep, slow locations as well, which were good places to experiment with the new transmissions. Because they were 20% cheaper than an equivalent diesel electric locomotive, they were considered well worth trialling, and as the only 2,000 hp diesel electric loco in Britain at the time was 10203, that weighed 130 tons, when the first diesel hydraulic "D600 Warships" came in at 117 tons, they were considered lightweight. This decision also influenced the WR to look at the locomotive type even more enthusiastically, as they were also aware of further developments in Germany where a lightweight high-powered diesel hydraulic locomotive, which became the first of the V200 series, was being used very successfully.
Having accepted the hydraulic transmission as the best option, the WR pushed for more of this type of lightweight locomotive. There were also plans to phase out all loose-coupled freight trains by the early 60's, so the advantage heavier locomotive had for braking these sort of trains would no longer be important. The BTC then allowed the WR to order a pilot batch of locomotives based around the V200 as a further experiment, and the railway manufacturing workshops at Swindon now gained an order for the first three "D800 Warship" pilot scheme locomotives.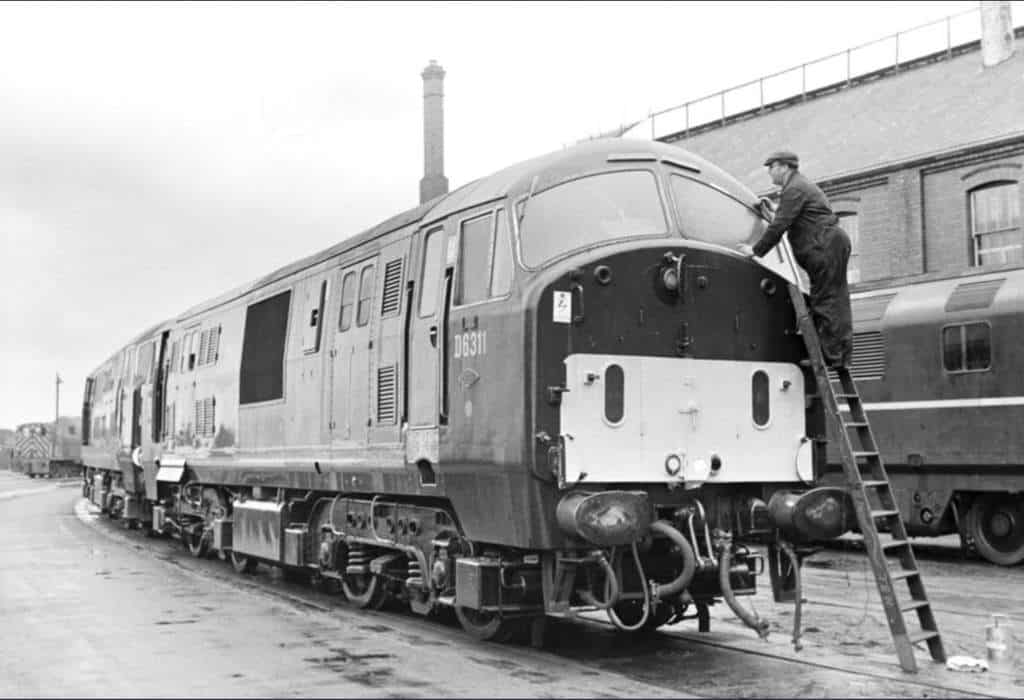 By now pressure was building for the BTC to deliver the savings and advantages of diesel traction and replace the steam locomotives in service. In 1957 Swindon received a request for 30 more D800's, and NBL an order for 52 more D6300's. There were a number of design changes that NBL wanted to carry out with the production run of D6300s, even before the pilot scheme engines had been delivered, showing the hurried ordering of locomotives.
In 1958 another order was placed with NBL for 33 Swindon designed "D800 Warships", that caused difficulties for NBL in Glasgow as not only did they have to learn new stressed-skin techniques of production, but they also had to introduce the L630rV Voith transmission at the same time. This resulted in the production of the Class 22 to be put on hold for 18 months.
Eventually the majority of the D6300 class operated in the West of England on a range of local passenger and freight work, with smaller numbers of the later units operating on local duties in the Bristol and London Paddington areas, primarily moving empty carriages between Paddington and Old Oak Common depot and carrying out shunting duties at Royal Oak. Although initially they were thought of as being 'unreliable' it is now believed that they performed far better after the initial problems had been resolved. With a decision to rationalise the large number of different locomotive classes at the end of the 1960s, withdrawals soon began, and the class was extinct by January 1972. None were preserved.
© 2016 The Project Class 22 Society. All rights reserved.