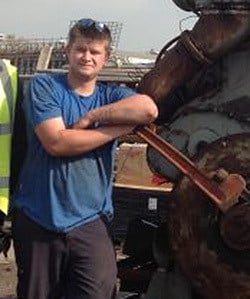 David Forster
Chairman
David lives in Kent and is a full time railwayman, currently working as a Shunter with GB Railfreight. David is married, has a young daughter and son, and with what little spare time is left outside of Project 22, he volunteers on the Swanage and Epping & Ongar Railways. The whole idea for the Project sprang up as a result of his suggestion to create a new build Class 22 whilst engaged in discussion on a Facebook forum. David is the young face of the committee and looks forward to the time when D6358 will appear at a Heritage line near you.
email: david@class22newbuild.co.uk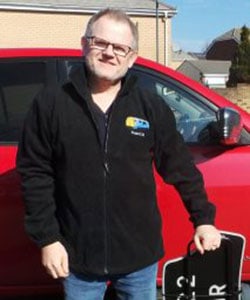 Richard Benyon
Business Manager
Richard lives in Bridgend and is a local businessman involved in the Polymer Supply Industry. Richard admits to having left school with minimal qualifications and set out to improve his educational standards by attending adult education locally. He has since become a successful business owner and, looking for a new outlet for his undoubted talents, joined the Committee as Business Manager committed to raising the profile of the Society and to obtaining funding to see the Project through to a successful conclusion. Richard is also involved with the South Wales Cab Preservation Group and kindly offered the use of his site to Project 22 to use as its base.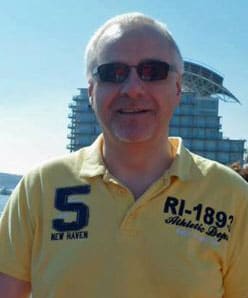 Doug Parfit
Project Manager
Doug works in the defence industry as a Systems Planner for BAE Systems in South Wales. Doug became involved in the Project at an early stage and was tasked with finding out if the build was in fact feasible which, having found a source of the original NBL drawings and having tracked down at least two original engines, declared that it was in fact 'do-able'. Doug has an ambition to re-create a D600 "Warship" but is convinced that the Class 22 is absolutely the right locomotive for a new build project due to its inherent simplicity of construction.
Dave Blake
Publications Officer
Dave is a specialist in alarms and works as a Field Service Engineer for a well known alarm supplier. Dave is a diesel hydraulic "nut" and has been involved with the Project from the very beginning, as Editor in which post he has completed our newsletters and, recently, he compiled our Class 22 booklets, sold in support of the Society. A 'Stranglers' fan since the late 1970's, David reckons that he has seen them at least 25 times over the years and declares them the greatest band ever. Just to emphasise that the Committee are spread far and wide, David lives in Ryton, Tyne and Wear and claims that going south of Sheffield gives him a nosebleed!
email: editor@class22newbuild.co.uk